PICK YOUR OWN VEGETABLES!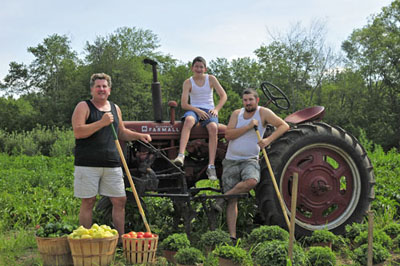 Welcome to Bader Farm. Our family has owned and operated this business since the late 1800's. Five generations. At Bader Farm everyone is treated like family. We do our best to go the extra mile for our customers. Our prices are reasonable because we are the grower. We do not use insecticides - we use biological control. What that means is no chemicals; essentially, the good bugs eat the bad bugs. We also use composted soil, a natural fungicide. We sell retail and wholesale, are handicap accessible and, for the convenience of our customers, we accept Visa and MasterCard.

Today, our 15 acre farm is run year-round by me (Ivan Bader), my wife Jean and our sons Ian and Sean. In addition to our home-grown annuals, perennials, fresh produce and fruit, we offer a local landscape service and seasonal offerings such as Easter plants, pumpkins, greenhouse Poinsettias, firewood, wreaths, grave blankets and Christmas trees.

At Bader Farm, we care about our neighbors and the community. We attend the Paterson Farmers Market on East Railway Avenue (an open air Farmers Market) and are members of the NJ Farm Bureau, NJ Direct Marketing, Montville Township Chamber of Commerce (Voted Business of the Year 2004) and were voted Daily Record Business of the Week.

For five generations, Bader Farm has been run by the Bader family. As a family owned and operated farm, we're proud of our heritage and work hard all year long to make your visit with us a truly exceptional experience. We look forward to welcoming you soon!